Through the Eyes of Hope (Book)
Theatrical Release:
January 10, 2017
Book Release:
January 10, 2017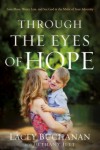 Synopsis
In Through the Eyes of Hope Lacey Buchanan tells her family's compelling story that has captured the hearts of millions on YouTube and GodVine. Her precious son Christian was born with a medical condition that is so incredibly unique, it's one of only fifty known cases in the world. Lacey traces the gripping journey of Christian's life and how God used it to help her family see how He can turn the most challenging circumstances into something beautiful for His glory.
Dove Review
During a routine ultrasound, Lacey Buchanan and her husband Chris are told that their son Christian will be born with a deformity. After the birth, the couple is devastated to learn that Christian's defects are much more severe than they'd anticipated. Through the Eyes of Hope tells the story of the Buchanans' journey, and the unexpected ways Christian's young life has affected people all over the world.
Readers follow Christian's multiple surgeries, as well as the family's spiritual, financial and relational crises. Eventually, Lacey makes a video about what a blessing her son is and how thankful she is that she didn't abort him. The video goes viral, catapulting Christian and his family into new friendships and experiences. The Buchanans' new visibility proves a double-edged sword: while it provides them with a great deal of support and love, it also makes them a target of cruelty from strangers (and some friends). The conversational style of the book made it easy to read. Christian's story was inspirational, challenging, and moving. I loved the faith and ferocity Lacey shows as an advocate for her son (and every person with special needs). However, at times, the chapters felt a bit choppy, and the sequence of the book's events was often confusing; perhaps that's because Lacey started writing her son's story on a blog. As a whole, "Through the Eyes of Hope" is a worthwhile and important read; one that is sure to make people think differently about people whose life is touched by disability.
Content Description
Sex:
One group of Internet commenters writes that they have sex while looking at pictures of the disabled child.
Drugs:
A post-operative child is said to have been in withdrawal from potent pain medication, although the diagnosis proves to be untrue.