Till the Clouds Roll By (1946)
DVD Release:
April 26, 2006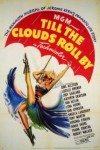 Synopsis
Biography of songwriter, Broadway pioneer, Jerome Kern. Unable to find immediate success in the USA, Kern sought recognition abroad. He journeyed to England where his dreams of success became real and where he met his future wife Eva.
Dove Review
Jerome Kern tells the story of how he became successful through music. From the streets of New York to London and back to the USA, his musical inspiration to many of his stage performances came to life through young stars.
He tells his driver the story of meeting up with James Hesler and his young daughter Sally that led him down the path to both music and finding his wonderful wife. Jerome, who is called Jerry by his friends, and Jim became the lead songwriters for a lot of musicals on stage in the early years of the 1920s. Shows like "Oh Boy," "Leave it to Jane," and "Showboat." The inspiration of Kern's works influenced both stage and film. This movie is a charming and entertaining story featuring the talents of many performers, including songs by Judy Garland, Leno Horne, Dinah Shore, June Allyson, Van Johnson and Frank Sinatra. "Till the Clouds Roll By" (1946) is a classic musical that can be enjoyed by all. We award the Dove Family-Approved Seal for all ages to this movie.
Content Description
Drugs:
Men are drinking in a few scenes; man talks about the pills he is collecting from his doctor for his health; smoking cigars and cigarettes.
Info
Company:
Film Detective, LLC