Heritage Falls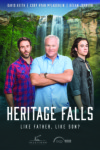 Synopsis
Charlie Fitzpatrick is the winningest high school basketball coach in Georgia history. While many of his players think of him as a father, he does not have a good relationship with his own "bookworm" son, Evan. So Charlie decides that the best way to connect and bond is to take his son and grandson to a rustic cabin for an unforgettable weekend retreat.
Dove Review
"Heritage Falls" focuses on the unity that can eventually evolve from differences, and does so with inspired performances. David Keith portrays Coach Charlie Fitzpatrick, who retires from being the most-winning coach in Georgia history in high school basketball. His wife, Laura (Nancy Stafford), supports him at a retirement pep rally at school, as well as his daughter, Harvey, but his son, Evan (Coby Ryan McLaughlin), does not show up. And for a reason. He and his father never got along. Charlie could not understand his son's desire to be a novelist and to run a bookstore. Evan felt as if he never measured up. And now, Evan is placed in the position of dealing with a son that wants something different. Evan's son, Markie (Keean Johnson), wants to quit college and play music full time.
Charlie insists on he and Evan and Markie taking a camping trip together. It starts out disastrous. Evan goes begrudgingly, stating, "I'm 44, not 14," after which things begin to go wrong and unravel. Just when it seems the three of them get past the disagreements and are making progress, various things seem to tear them further apart. That is, until Charlie reveals a secret he has kept hidden from Evan. And when Markie becomes lost and is injured, the three must pull together. It is then they are put to the test to see if they can match the team slogan: "We are a team, we are one, we are family." Charlie learns that his son benefited more from books than he ever could have dreamed.
A scripture passage from Malachi is used perfectly: "And He will turn the hearts of the fathers to the children, and the hearts of the children to their fathers." We are pleased to award this wonderful movie our Dove "Family-Approved" Seal for ages 12-plus. The story, the character growth, and the message are inspired. The film makes it clear: people can grow in their relationships, and even change.
Info
Reviewer:
Edwin L Carpenter