Resident Evil: The Final Chapter
Theatrical Release:
January 27, 2017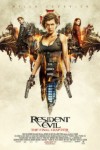 Synopsis
Picking up immediately after the events in Resident Evil: Retribution, Alice (Milla Jovovich) is the only survivor of what was meant to be humanity's final stand against the undead. Now, she must return to where the nightmare began – The Hive in Raccoon City, where the Umbrella Corporation is gathering its forces for a final strike against the only remaining survivors of the apocalypse.
Dove Review
Effective January 1st, 2009, The Dove Foundation Review Team has ceased reviewing all NC-17 rated movies and certain extraordinarily explicit R, PG-13 and PG-13 Horror rated films. This decision was reached due to the fact that Dove reviewers are parents or grandparents with conservative values. As such, we feel that we can no longer expose these dedicated and caring people to movies that contain distasteful and appalling stories that are focused on graphic horror and violence, and/or gratuitous depictions of explicit sex and nudity. "Resident Evil: The Final Chapter" is considered to be such a film. Our report is therefore limited to the business information (title, rating, distributor, producer, director, actors, etc.), synopsis, and the content chart.
Info
Company:
Sony/Screen Gems