The Hitman's Bodyguard
Theatrical Release:
August 18, 2017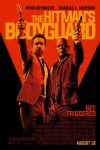 Synopsis
The world's top bodyguard gets a new client, a hit man who must testify at the International Court of Justice. They must put their differences aside and work together to make it to the trial on time.
Dove Review
Have you ever been matched up in a situation with someone that was your opposite? Ryan Reynolds plays Michael Bryce, a top notch bodyguard, a sensitive man that is matched up with hitman Darius Kincaid (Samuel L. Jackson), who is loud, tough, and impulsive. He and Bryce rub each other the wrong way and yet have to work together. Kincaid is in love with a woman that he saw the first time while she beat up several men in a bar. Salma Hayek plays Kincaid's love interest, a woman that he is determined to get out of prison! One of the fascinating things about this movie is the exchange of funny dialog and moments between Bryce and Kincaid. When thugs have destroyed their car in some backwoods, Bryce and Kincaid take them all out and they agree it is a good thing they can still drive their enemy's truck away. Then the truck explodes and anyone who has experienced one of those moments when your plans go up in smoke, will appreciate the look on their faces when this happens!
The movie features non-stop action and it is interesting to see Bryce and Kincaid continue to work together until they unexpectedly begin to form a friendship as the movie races to its action-packed conclusion. Kincaid, ever glib of tongue, comes up with his own version of, "When life gives you lemons, make lemonade." His version is, "When life give you s***, make Kool-Aid!" He is crude in the movie but definitely funny at times. One of the best scenes in the film is when a van of nuns picks up Kincaid and Bryce after their car was destroyed, and Kincaid sings along with the nuns. We later learn that Kincaid had a strong tie to his deceased father, a pastor.
The film bombasts the viewer with a lot of casualties as the body count adds up. Many, many characters are shot and killed. A dictator (Gary Oldman) murders a man's wife and kids in front of him (although the characters are not seen dying), and there are several bloody scenes including the spraying of blood as people are shot in the head and in other parts of their bodies. The language is extremely strong throughout, and includes the "F" bomb a lot, even between the words "J" and "C". Although the movie sends a message of two unlikely people becoming friends, it is definitely not one for family viewing with the kids. The key word is "excess" and there is excessive excess!
Info
Reviewer:
Edwin L. Carpenter