Candlelight Service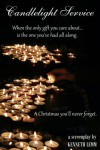 Synopsis
Candlelight Service is a heartfelt drama centered around the Daniels family during the holidays. Gloria Daniels has a secret which she intends to keep until after Christmas. She only wants one thing…for her estranged family to come together and celebrate Christmas. Gloria has a grandson she hasn't met and a daughter-in-law she yearns to know. […]
Dove Review
Candlelight Service is a heartfelt drama centered around the Daniels family during the holidays.
Gloria Daniels has a secret which she intends to keep until after Christmas. She only wants one thing…for her estranged family to come together and celebrate Christmas. Gloria has a grandson she hasn't met and a daughter-in-law she yearns to know. But more than all of this, she needs her son's relationship with his stubborn father to be restored. Marcus is aware that he has let his father down over the years, yet he's never been willing to pay the price of humility to return home. Until his mother calls with an appeal for him to bring his family home for the holidays. It's been twelve years since Marcus has had Christmas with his mom, dad and sister, why should this year be different? For some unexplainable reason, this turns out to be the year that Marcus's heart softens to his mom's request and he acquiesces, even knowing his father will not want him. Gloria is thrilled when Marcus shows up with his lovely wife Nia, and his son James – named after his own father – the bond is immediate. She can hardly believe that her dream has come true. All she wants for Christmas is for the family to attend the inspiring candlelight service at her church. Before any of that can happen, the two men she loves the most, must set aside unforgiveness. A challenge of epic proportion stands in the way of what could be her final Christmas, but Gloria has hope and faith that God will see this through. *We follow a family who is suffering through every day, real-life situations in which we all do, all the while keeping their eyes focused on God. While the Daniels' faith is tested beyond all understanding, it is never lost. And despite the despairing situations placed in the path before them, their hope grows stronger with each passing day.
Candlelight Service
is a relationally redemptive story.