Space Explorers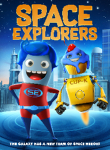 Synopsis
When space explorers Nick and Sammy are sent on a mission they race against time to save Earth's creatures and learn valuable lessons on the way.
Dove Review
The Wownow team is at it again, taking learning and all of its fun into the final frontier: outer space! Kid audiences get to know the the animals of Earth a little better by taking their ready-to-learn minds beyond the atmosphere and understand life from a new perspective. The film follows youthful astronauts Nick and Sammy to gather endless facts and information about life in ways we don't always appreciate.
Wownow has cleverly crafted a children's film to be equal parts educational and entertaining. Kids will love getting to realize how animals around the world are all created specially, and offers hope to those facing extinction. The film believe wholeheartedly in how children can be educated and make a difference. This film is more than worthy of our approval for all Ages.
Info
Company:
WowNow Entertainment