A Pahappahooey Island Christmas
DVD Release:
June 1, 2018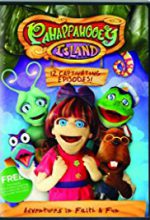 Synopsis
A girl and her friends have adventures on an island while teaching children biblical lessons.
Dove Review
This is a holiday treat! The characters are delightful, the animation is colorful and vivid, and the message is timeless; Christmas, after all, is about celebrating Christ. The puppets bring their characters to life with great names like Captain Hobbs, Hacksaw, Mama Mia, Pink Weasel, Icabone Slink and more!
One of the human characters, Allie, wants to direct a Christmas play, and she involves Hacksaw the beaver, Captain Hobbs (a frog), Mama Mia, and others. Their comedic antics will have the kids laughing, and probably the adults too! The movie features great songs like "Miracles are Ours" and "Joy to the World." The story teaches forgiveness—as a few characters get short with one another during the practices but then confess their shortcomings—and it also teaches us to remember to keep Christ in Christmas.
This inspiring movie will reinforce the spirit of Christmas in all who watch it—even if you watch it in June! We are happy to award it our Faith Friendly Seal for All Ages.
Content Description
Faith:
A strong faith message about the birth of Jesus and how Jesus should be the focus of Christmas; a scripture from Luke is read.
Integrity:
The importance of serving Christ and putting disagreements behind to do the right thing and to celebrate Jesus.
Info
Industry Rating:
Not Rated