Matthew (Visual Bible)
Theatrical Release:
October 21, 1996
DVD Release:
May 24, 2006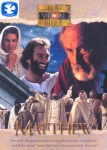 Synopsis
Experience the Visual Bible's Matthew. This powerful and entertaining film is taken word for word from the text of the New International Version translation. This multimillion dollar production appeals to all ages, and it offers educational, spiritual and entertainment value. Filmed on location in Tunisia, Mororcco and South Africa, Matthew features a cast of thousands, historically accurate costuming and award-winning directing. The film stars Emmy award-winning actor Richard Kiley as Matthew, and introduces Bruce Marchiano as Jesus.
Dove Review
The story of Matthew's gospel is dramatized in this NIV verse by verse presentation. Richard Kiley plays the Apostle Matthew, who narrates the story as remembrances of Jesus and his life are vividly portrayed. The film has a lot of positive elements. The actor who portrays Jesus, Bruce Marchiano, portrays a likeable, approachable Jesus with a sense of humor and a love for life. In a few scenes he smiles at the Pharisees while telling them off and even puts a friendly arm on a Pharisee's shoulder. He smiles when he saves Peter from sinking in the sea during a storm. His portrayal of Christ during his scourging and crucifixion were very well done as he seemed to actually be suffering and in great pain.
This is a moving presentation of Matthew's gospel, and we recommend it for ages twelve and above.
Info
Company:
Visual Bible Society
Director:
Reghardt van den Bergh
Industry Rating:
Not Rated
Reviewer:
Edwin L. Carpenter