High Noon
Theatrical Release:
June 7, 1952
DVD Release:
June 10, 2008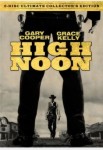 Synopsis
This Western classic stars Gary Cooper as Hadleyville marshal Will Kane, about to retire from office and go on his honeymoon with his new Quaker bride, Amy (Grace Kelly). But his happiness is short-lived when he is informed that the Miller gang, whose leader (Ian McDonald) Will had arrested, is due on the 12:00 train. Pacifist Amy urges Will to leave town and forget about the Millers, but this isn't his style; protecting Hadleyburg has always been his duty, and it remains so now. But when he asks for deputies to fend off the Millers, virtually nobody will stand by him. Chief Deputy Harvey Pell (Lloyd Bridges) covets Will's job and ex-mistress (Katy Jurado); his mentor, former lawman Martin Howe (Lon Chaney Jr.) is now arthritic and unable to wield a gun. Even Amy, who doesn't want to be around for her husband's apparently certain demise, deserts him. Meanwhile, the clocks tick off the minutes to High Noon — the film is shot in "real time," so that its 85-minute length corresponds to the story's actual time frame. Utterly alone, Kane walks into the center of town, steeling himself for his showdown with the murderous Millers. Considered a landmark of the "adult western," High Noon won four Academy Awards (including Best Actor for Cooper) and Best Song for the hit, "Do Not Forsake Me, O My Darling" sung by Tex Ritter. The screenplay was written by Carl Foreman, whose blacklisting was temporarily prevented by star Cooper, one of Hollywood's most virulent anti-Communists. John Wayne, another notable showbiz right-winger and Western hero, was so appalled at the notion that a Western marshal would beg for help in a showdown that he and director Howard Hawks "answered" High Noon with Rio Bravo (1959).
Dove Review
This is a classic film for a reason. The tension mounts in this one as a convicted killer and former prisoner who was pardoned is headed back to town by train for a showdown with the marshal who sent him there, Will Kane (Gary Cooper). Cooper deservedly won an Academy Award for his performance as the morally-guided marshal who does what's right and isn't afraid to admit being scared. The villain is arriving by high noon, hence the title of the film. He also happens to be arriving on Will's wedding day, as he just married a beautiful young woman named Amy (played by a beautiful young Grace Kelly).
There are some shootings in the film and four men are killed but it's not graphic, especially by today's standards. The featured song of the film "Don't forsake me, oh my darling" is performed by Tex Ritter, and won an Academy Award too. This is a classic western rife with tension, and due to the theme of a killer coming to town, we recommend it for ages twelve and above, and gladly award it our "Dove Family-Approved" Seal. When the clock strikes noon in this one, you know the inevitable confrontation is minutes away.
Info
Writer:
John W. Cunningham and Carl Foreman
Reviewer:
Edwin L. Carpenter