Catholics in the City of Angels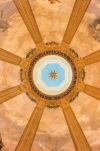 Synopsis
In Los Angeles, one church brings together different cultures and experiences. Meet Father German Sanchez, a Colombian priest whose church is home to immigrants, expats, and others from all walks of life, bonded by a church.
Dove Review
This documentary about a Catholic priest who ministers to his congregation and community is inspiring and humbling. Father German Sanchez, a Columbian native, is full of love for people from all walks of life. He has devoted himself to the mission of ministering to ex-patriots in Los Angeles by focusing on building a diverse group of worshipers.
This mostly French film with English subtitles follows Sanchez's day-to-day commitments of preaching, sharing meals and celebrations, and mourning with his parishioners. There is an intense focus on his desire to understand other cultures, so he can be sensitive to their particular worldview.
He prides himself on making a meaningful connection with the path of medicine he was once pursuing as he explains that he now uses spiritual healing to meet needs. Watching how both adults and children receive him and worship under his leadership highlights the respect and reverence they have for his commitment to them and ultimately to God, Himself. Father Sanchez is filled with joy and peace and love for others in their suffering and their victories. As a man who hails from France for most of his life, he is found to be drinking wine with his compatriots as well as smoking – this does not seem to be in contradiction to his personal theology or understanding of grace, however.
Due to occasional drinking and smoking, Dove awards Catholics in the City of Angels the Dove-Approved seal for Ages 12+.
The Dove Take:
Hope can be taken from this story of one man to affect a variety of people from all walks of life with the love and sacrifice of Jesus.
Content Description
Faith:
Clear gospel message throughout that Jesus is the answer to every need through community and the grace of God
Drugs:
Father Sanchez, one nun, and various parishioners are seen consuming wine in a limited way as part of what Sanchez explains is an act of worship. He also smokes one cigarette.
Info
Industry Rating:
Not Rated