Shiloh
Theatrical Release:
June 3, 1997
DVD Release:
June 3, 1997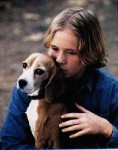 Synopsis
The bond between a young boy and an amicable blond beagle is tested when the dog is abused and must be rescued from its owner.
Dove Review
A boy discovers a low-life neighbor is mistreating his animals. The lad sets out to save a beagle that runs away from the abusive hunter. More substance than in most boy-and-his-dog movies. Lessons are taught concerning the value of your word and you can't run away from your problems. And that dog – he could give Snoopy charm lessons!
Content Description
1 mild expletive, but I caught no profanity; the one animal fight is staged with the cooperation of the American Humane Assn.; the villain kicks his dogs and mistreats them which may upset little ones.
Info
Company:
Legacy Releasing
Reviewer:
Phil Boatwright