In His Fathers Shoes
Theatrical Release:
April 8, 1998
DVD Release:
February 1, 2008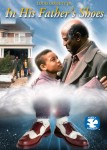 Synopsis
A fortyish cancer-stricken, emaciated Frank Crosby (Louis Gossett Jr.) and his fifteen-year-old son Clay (Robert Ri'chard), who is the healthful, youthful image of his father, are spending an afternoon enjoying the atmosphere of Venice Beach. They enter Oddities, a store where the gypsy woman owner gives them a pair of special wingtip shoes.
Later that night in the hospital where Frank lay dying, he shares with Clay his memory of a postcard image: a golf course where people are playing and are leisurely sipping tea. Frank dies and leaves behind a distraught family: Clay, his little sister Maggie (Shadia Simmons), and their mother Janice (Barbara Eve Harris).
Clay wistfully goes to his father's closet and finds the wingtips from earlier in the day. Putting them on, he is transported back in time and becomes his father as a child. He discovers he can travel back and forth in time just by putting on or taking off the shoes. Clay learns a great deal about his father's early years and is eager to learn more…
Dove Review
This is a movie that goes where we don't want to go sometimes: into the world of pain to deal with the issue of death, misunderstandings and bitterness. Louis Gossett Jr. gives a very fine performance as Frank Crosby, a cancer-stricken man who is close to his fifteen-year old son Clay, but wishes things could have been different between himself and his own father.
As Clay is miraculously able to travel back to his father's teen years, he learns what it is like to be in his father's shoes. This film is awarded our Dove "Family-Approved" Seal as it is a good story and will not only entertain but give the viewer some food for thought regarding the importance of family relationships.
Content Description
Sex:
Some suggestive dancing in a brief scene; A student refers to Aphrodite as the "goddess of sex" a couple of times in class.
Language:
D-2; H-2; OMG-2; SOB (Abbreviation used in conversation)-1; Slang for male genitalia is used twice; The word "puke" is used as is the term "Bite me"; A racist term of "Oreo" is used in the fifties.
Info
Company:
Echo Bridge Home Entertainment
Reviewer:
Edwin L. Carpenter