Anastasia (Animated)
Theatrical Release:
November 14, 1997
DVD Release:
April 24, 1998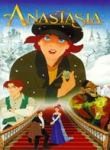 Synopsis
Anastasia, the daughter of the last Russian czar, is at a party, when Rasputin, an evil monk, declares a curse on the Romanov family. Anastasia and her grandmother escape with the help of a young kitchen boy Dimitri, but Anastasia falls, hits her head, and loses her memory. Ten years later, Anya (Anastasia) leaves the orphanage where she grew up, and goes to St. Petersburg with her puppy fried Pooka. There she meets a grown-up Dimitri, and his friend, Vladimir, who are holding auditions, for an "Anastasia" to fool the empress, and get a lot of money. They choose Anya, and take her to Paris. Rasputin, who has died, uses minions to try and kill Anya, failing twice. During the course of all these events, Dimitri and Anya fall in love.
Dove Review
"Anastasia" is a beautifully made animated film. The colors are wonderful, the songs are great, and the story is interesting. The evil sorceror Rasputin places a curse on the Romanov line and young Anastasia is separated from her beloved grandmother, the Empress of Russia. Of the Romanov family, only Anastasia and the grandmother survive, although her grandmother winds up in Paris. Anastasia grows up as young "Anya" in an orphanage and years later a young man, Dimitri, and an older man, Vlad, plan to con her off to her grandmother as the real Anastasia, not knowing that she is, indeed, Anastasia. The grandmother, the Empress, longs to find her long lost grand-daughter. The film does have some strong stuff in it for young children, including Rasputin selling his soul for power and it does on a few occasions show spirits trying to destroy Anastasia. There is also a scene in which Anastasia is hypnotized by Rasputin's power and a demon like creature encourages her to jump into the sea. However, these powers are destroyed and love triumphs which gives the film a redeeming value. Parents should be cautious about taking very young children to it.
Info
Company:
20th Century Fox Home Ent.
Writer:
Susan Gauthier and Bruce Graham
Director:
Don Bluth Gary Goldman
Reviewer:
Edwin L. Carpenter