Parent Trap
Theatrical Release:
July 29, 1998
DVD Release:
May 31, 2005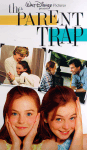 Synopsis
Walt Disney Pictures' new feature "The Parent Trap" tells the tale of identical twin sisters, separated shortly after birth by the break-up of their parents. "His and hers" kids, the twins are raised on different continents by their two successful parents. Hallie (LINDSAY LOHAN) is growing up in Napa Valley with her vineyard-owner father, Nick Parker (DENNIS QUAID). Annie (also LINDSAY LOHAN) is raised in fashionable London by her mother, Elizabeth James (NATASHA RICHARDSON), a renowned wedding gown designer. Unaware of each other's existence, fate intervenes when the girls coincidentally meet at summer camp in Maine. Eager to meet their respective parents, the girls devise a scheme to switch places and ultimately, reunite their mom and dad. Their plan takes on urgent proportions when they learn their father has fallen for the young, beautiful and opportunistic Meredith Blake (ELAINE HENDRIX), in Walt Disney Pictures' romantic comedy, "The Parent Trap."
Dove Review
"The Parent Trap" makes for an interesting film to watch, due to the fine acting by Lindsay Lohan in her first feature film as she plays twins Annie and Hallie, as well as good performances from Natasha Richardson and Dennis Quaid. In addition, the plot is a rather interesting one. It is interesting to watch the camp scenes as the girls meet for the first time and begin to put the pieces of the puzzle together as to why they resemble one another so strongly.
There are some minor issues which are listed below, the worse being one of the twins sampling a very small drink of wine with her family present. Due to a few instances such as this, we approve the film for ages twelve and above.
Info
Company:
Buena Vista Home Video
Writer:
Erich Kästner and David Swift and Nancy Meyers and Charles Shyer
Reviewer:
Edwin L. Carpenter