Be Still and Know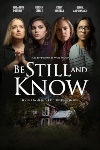 Synopsis
Sophia and C.J. have been friends since childhood, sharing almost everything except future college plans. They enjoy days of picnicking and catching frogs by the pond on Sophia's grandfather's land. Unfortunately, their days are numbered and C.J.'s family leaves for a social climb, separating the two BFFs. Fast forward 10 years: C.J. and two preppy […]
Dove Review
Sophia and C.J. have been friends since childhood, sharing almost everything except future college plans. They enjoy days of picnicking and catching frogs by the pond on Sophia's grandfather's land. Unfortunately, their days are numbered and C.J.'s family leaves for a social climb, separating the two BFFs. Fast forward 10 years: C.J. and two preppy college friends, Amber and Jocelyn meet Sophia, as she has invited them to spend fall break in her late grandfather's country house. C.J. harbors confusion about her feelings regarding the reunion, while Amber and Jocelyn show downright skepticism. When they pull up to the vacant vine-covered cabin, their fears are realized, and Amber's nose recoils into a permanent curl. Jocelyn isn't far behind, her eyes scanning the distasteful clutter inside. But Sophia and C.J. are more enamored with memories and the four soon take off to explore the old ranch. As light fades, they come upon a mysterious trailer on the property, and decide it's better to keep their distance. Later, from the bushes surrounding their campfire, we feel someone or something is watching. The next morning, Amber's cross country run is abruptly ended by a man with a gun who doesn't seem to appreciate her recreation. It seems that Sophia has forgotten to mention a detail that changes their plans. When she admits her grandfather's land is up for auction, they defect.
Nothing can bring four college girls together better than adversity, so when the girls find a dead car battery is detaining them, and with no cell service, Sophia fesses up and sacrificially proceeds on a hike to the hilltop miles away for cell reception. But her trek too is cut short. Back at the darkening cabin, C.J. and the others begin to talk of their friendships, fears, and their concern for Sophia. C.J. realizes what the situation calls for, and pulling a childhood prayer from memory, she sets an example of prayer for the other two. Each girl begins to show a greater appreciation for others, a sign of developing maturity. The plot turns a corner as they come upon a newspaper photo of whom Amber recognizes as the man in the woods. The article reveals a tragic experience in Afghanistan. What could it mean, and where is Sophia?
Be Still and Know is slow at times, with novice actors and narrow directing. However, the story explores emotional and spiritual growth, the power of prayer and the effects of PTSD. Using suspense adds a layer of intrigue that we don't often see in faith-based films, and the cinematography is effective. The film is clear of offensive elements and promotes prayer; Dove awards it the All Ages Seal of Approval.
What to talk about:
Emotional and spiritual maturity can develop from experiencing helplessness.
The power of prayer is realized.
There's always a story to someone's past.
Friendships and relationships are more important than fleeting things.
The Dove Take:
Be Still and Know is a story of four college girls, each with her own issues, experiencing growth over a life-changing weekend in the country. Although artistically limited, the film successfully uses suspense as a tool to further the plot.
Info
Company:
Every New Day Pictures
Industry Rating:
Not Rated