In Your Hands: Baby Massage Therapy
Theatrical Release:
December 16, 1999
DVD Release:
December 16, 1999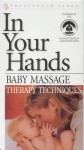 Synopsis
Give your baby a sublime, self-affirming start to a healthy, productive life…and give yourself the joy and satisfaction of building a loving relationship with your own two hands. Using baby massage techniques demonstrated by Professional Massage Therapist Bonnie Peters, you can:
– improve your baby's sleeping, breathing and digestive rhythms
– enhance your baby's physical and emotional development
– soothe away colic, constipation and minor ailments
– ease your apprehension about handling your "fragile" infant
– alleviate any postpartum depression you may be suffering
– increase your self-confidence through professional level training
The Trust touch Baby Massage video carefully reveals several massage techniques that can positively affect your baby's health. It will teach you techniques that will strengthen your bond with your child and dramatically improve your baby's responsiveness and overall health.