Welded: Forming Racial Bonds That Last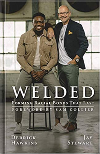 Synopsis
Welded: Forming Racial Bonds That Last is the story of two pastors and two churches coming together amidst the nation's greatest racial tensions and painting a picture of true biblical community. This book recounts the two-year journey leading up to the merging of an African American church with a white mega-church, highlighting the backstory that began years earlier and bringing the reader to a place of self-reflection.
Dove Review
Welded: Forming Racial Bonds That Last is the book put together by Jay Stewart and Derrick Hawkins, respectively a middle-aged white pastor and a young black pastor who merged predominantly white and black churches with similar names. It stems from an unlikely time, 2016, an unlikely place, North Carolina, and unlikely circumstance — another police shooting of a black man — when unity seemed unlikely, if not inconceivable. It is not so much a roadmap to how to achieve racial reconciliation as it is the recipe for the revival that must precede it.
They tell you the ingredients that brought about The Refuge church, what they used and are using — prayer in abundance and a commitment to acting in a way that facilitates God's answer. But this isn't a step-by-step guide for how to blend it or how others can follow their lead. Beyond speaking to certain necessities, such as that "we must learn to celebrate, not just tolerate differences," they make it clear that unity is something only the white-hot blowtorch of God can bring about. We just have to be willing to go along with His plan, even when it burns.
As an editor who has worked with diverse writers for my entire professional career, I know how difficult it can be to merge what two people write, with different viewpoints and life experiences, into one work of pen and paper. As a fellow minister of the gospel, I can only imagine how exponentially much more difficult it was — and still is — to blend diverse congregations, cultures, traditions, mindsets and means and methods of worship into one house of God.
Jesus Himself makes the two one, having destroyed "the dividing wall of hostility" that racism brings, even in churches that are supposed to be enlightened. "I don't believe Jesus is coming back for a white church or a black church," reads one particularly salient passage. "He is coming back for a unified bride that loves Him and desires to please Him. … No matter the challenges ahead of us, we are committed to reconciliation."
The writing makes it clear who's speaking at any given time. From Jay. From Derrick. Both are candid about their backgrounds. Stewart came from Columbus, Georgia, where his interactions with blacks were limited until he was bused to another school in third grade to facilitate integration. Even at that young age, he writes, "I learned to love and accept people regardless of the color of their skin." Hawkins was largely raised by praying grandparents in segregated Salisbury, North Carolina, and his great-grandmother prophesied that he would be a pastor "because I had a head like a preacher and I liked fried chicken." He wrestled with the call, ran from it, but eventually surrendered.
The brilliance of what they've come together to author is that it leaves room for the Holy Spirit to tailor reconciliation to the needs of different audiences as He sees fit. It's clear that that's what they were aiming for, with repeated emphases on prayer as the prerequisite for any genuine move of God rather than some man-made formula. Welded challenges us to be intentional about reconciliation and how it can make us a compelling witness for Jesus Christ, and as such it merits the Dove-approved Seal for All Ages.
The Dove Take:
In the midst of racial and political tensions, this book speaks candidly to our differences and divisions and then to how we can overcome them.
Content Description
Violence:
The effect a police shooting had on in Charlotte and the country is detailed. Also references to the deaths of Ahmaud Arbery and George Floyd.
Language:
Pastor Jay talks about how he grew up around people using the "N" word or telling disparaging jokes that were "racially tainted."
Violence:
The effect a police shooting had on in Charlotte and the country is detailed. Also references to the deaths of Ahmaud Arbery and George Floyd.
Drugs:
Pastor Derrick refers to "the drugs, the sex, the money, the lies, the betrayal, and the hurt" and how he couldn't "mask my emotions with alcohol and marijuana" as fought near-suicidal depression.
Info
Company:
iDisciple Publishing