Austin Powers: The Spy Who S——D Me
Theatrical Release:
June 11, 1999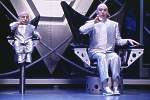 Synopsis
(We want to be sensitive to readers who may be offended by the British slang meaning of the title.) The fumbling Dr. Evil, a mad genius, goes back in time to steal the libido belonging to his arch nemeses, super hip secret agent Austin Powers.
Content Description
Contains profanity and two expressions that, if not blasphemous, come awfully close; much sexuality, including the opening titles with strategically placed objects covering Austin's nudity as he walks through a hotel; nearly all the humor is based on sexual innuendo and toilet humor - literally!
Info
Company:
New Line/Fine Line