Blue Streak
Theatrical Release:
September 17, 1999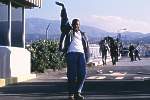 Synopsis
Three years ago, talented jewel thief Miles Logan (Martin Lawrence) was forced to hide his stolen stash of precious diamonds at a construction site when his $20-million heist went bad. Today, Logan is out of jail – and willing to go to outrageous lengths to get that loot back. The problem? The site where he hid the diamonds is now an L.A. police precinct.
Attempting to recover his riches, he impersonates a detective and ends up in the midst of drug busts, car chases and robberies along with his rookie partner (Luke Wilson). In the end, the very same criminal expertise Miles uses to reclaim his booty ends up inadvertently solving cases and winning the admiration of his "fellow cops."
Content Description
Six profanities and obscenity throughout; some crude humor; the violence is typical of the genre, with car chases, shootings (including one killing) and humorous fistfights; another in a recent list of Hollywood films where a criminal escapes justice. Funny concept hampered by the misuse of God's name.
Info
Company:
Columbia Tri-Star Pictures