One Special Night
Network Premier:
December 6, 2000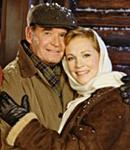 Synopsis
It's Thanksgiving Day and both Dr. Catherine Howard (Julie Andrews) and Robert Woodward (James Garner) wind up at the same medical facility, one still missing a loved one, the other visiting his spouse. When Catherine learns that Robert is stranded, she offers him a ride home. Almost immediately, the pair gets off to a rocky start as the car careens off the road and the couple has to trudge through a blizzard until they miraculously discover an empty cabin to shelter them from the storm.
The pair spars with one another about everything from cooking to board games, but it's clear that they're attracted to each other. As they break through each other's shells, the two become friends and it becomes clear that one day they will have a lot more to share. Although Robert's wife is in an institution suffering from Alzheimer's disease, he loves her and is loyal to her. It is a story about friendship; fortunately, it is not about adultery. Airing on CBS Wednesday, 12/06/00. 9:00-11:00 PM ET/PT.
Content Description
Three expletives and a couple of "oh my god's" but not meant to be profane.
Info
Industry Rating:
Not Rated
Reviewer:
Phil Boatwright