Left Behind
Theatrical Release:
April 24, 1998
DVD Release:
April 24, 1998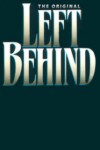 Synopsis
"Left Behind" is the first gospel video-message ever prepared especially for those who will be left behind after the rapture takes place. Set in a news format, the film opens with world leaders, political theorists and religious scholars trying to explain the disappearance of millions of people in the blink of an eye. After several humanistic conjectures, the film then evolves into a biblical account of the end times.
Dove Review
What will happen when the rapture occurs? Will what is foretold in the last book of the Bible really come to pass?
Truthfully, no one knows when the Lord is coming back for his church, but the Bible tells us He will come. "Left Behind" brings together the pieces of those last days. It features several well-known scholars of prophecy who speak realistically into the hearts and lives of those individuals who might find a copy of the movie after the rapture has occurred. It is designed to be a practical tool, which speaks the hard truth of what has happened and what is yet ahead for those left behind. When they watch the film, they may realize that faith in God — the faith they had so casually dismissed before the rapture of the church — is their only hope. This story can be a thought-provoking conversation starter for believers and non-believers alike. The subject manner may be frightening to the younger audience. However, we are pleased to approve this film for viewers ages 12 and above.
Info
Company:
Cloud Ten Pictures
Writer:
Peter Lalonde and Marjonneke Joanne Tjerkstra