Simpatico
Theatrical Release:
February 4, 2000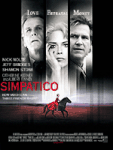 Synopsis
At first glance, Lyle Carter seems to have it all. A handsome millionaire with a beautiful wife and a sprawling estate in Kentucky, Carter has built his empire on breeding and training thoroughbreds. He is in the process of selling Simpatico, a Triple Crown winner, when the story begins.
Then Carter receives a call from Vinnie, a past acquaintance, about a dark event from the past, which will threaten to destroy his current success. Once a good friend of Carter's, Vinnie is now a deluded barfly living in a small town in California. He has gotten himself into trouble and calls Carter to bail him out before the truth about their past – their involvement in a horseracing scam which resulted in the ruin of an innocent man – comes to light.
When Carter arrives in California, he finds Vinnie a destitute man yearning for redemption. Vinnie has tricked Carter into coming back and confronting the past. After years of struggling with guilt, Vinnie wants to come clean. He believes he has located Simms, the man whose life they destroyed so many years ago, living in Kentucky under an assumed identity. Vinnie wants to offer restitution, but Carter fears his success will come crashing down if they reveal their secret.
Content Description
Profanity and obscenity throughout; sexual situations; nudity; violence.
Info
Company:
Fine Line Features
Writer:
Matthew Warchus and David Nicholls