Snow Day
Theatrical Release:
February 11, 2000
DVD Release:
October 3, 2000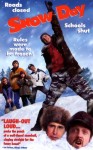 Synopsis
When a record snowstorm leaves a town paralyzed, it spells fun for kids and trouble for adults. This series of vignettes include a teenager trying to win the girl of his dreams, while escaping the wrath of her former boyfriend; kids tying to hijack a snowplow from a grumpy driver; and a bumbling TV weatherman trying to do live remotes.
Meet the Brandstons – Hal (Mark Webber) 15, has a crush on the most popular girl in school, not realizing that his girl – friend is really the girl of his dreams. Natalie (Zena Grey), Hal's ten-year-old sister dreams of not just one snow day, but the legendary and most sought after second consecutive snow day, despite the evil snowplow man who legend has it, uses the braces of kids he's run over as chains for his tires. And Tom (Chevy Chase) the father and local meteorologist at a third-rate news station, who dreams of being able to do the weather without wearing foolish garments such as a hula skirt or dressed as Old Man Winter.
This out of the blue snow day will bring surprises to each member of the family, filling their lives with possibilities, friendship, and young love.
Dove Review
Imbecilic, childish, moronic – all expectable terms seasoned filmgoers could use to describe this film. But this film was not made for adults. Nor would older teens be much interested in it. A man sat in front of me at the screening with his three-year-old sitting on his lap. She was entranced. It amused her. Indeed, it was made for her. This film is for the Nickelodeon set. The infantile jokes made her laugh and the adventure kept her glued to the screen. Should parents be worried about the film's content? Well, although it's a kid's fantasy about them-verses-us, it's fairly harmless, and it contains a positive message about friendship. Parents should be aware, that the kids show disrespect for the school principal (their contempt for this unlikable man is in the form of snowball attacks throughout the film) and the snowplow man (a very weird guy), but these are cartoonish figures, symbolic of unfeeling authority figures. Rather than deem such a film unsuitable for children, I think parents should discuss why little ones should show respect not just for people they like, but also for people they don't (Matthew 5:43-48).
Content Description
Six expletives, but I caught no profane language; one boy has trouble with flatulence, which is occasionally used for humor; teens do dangerous stunts on skimobiles; the driver of the snowplow, the film's comic foil, is a gruesome chap who does not brush his teeth and holds a kid hostage when preteens take his beloved bird; disrespect for an authority figure.
Info
Writer:
Will McRobb and Chris Viscardi
Reviewer:
Phil Boatwright