Whole Nine Yards
Theatrical Release:
February 18, 2000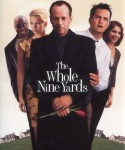 Synopsis
Nicholas "Oz" Oseransky (Matthew Perry) is a nice dentist living in suburban Montreal. His new next-door neighbor, Jimmy "the Tulip" Tudeski (Bruce Willis), is a hit man hiding out from a dangerous Chicago crime family. When Oz's unloving wife learns who's next door, she demands Oz go to Chicago to tell the mob where Jimmy is hiding out. She does this in hope of gaining a "finder's fee." Or, at least, that's what she makes poor Oz belief. As soon as her henpecked husband leaves on a jet plane, she runs next door to tell Jimmy what her husband is up to, thinking the hitman will "whack" him.
From there the film becomes a dark comedy filled with double crosses and unanticipated schemes, with two men with nothing in common finding they need to rely on one another to avoid being killed.
Dove Review
Although this film has some very funny moments and Perry has finally found a feature where he is able to successfully use what he has learned on his "Friends" TV series, it is a disturbing film. The dark humor centers around a hitman with morals (he has no compulsion about killing strangers, but thinks it is morally wrong to divorce – although he plans on murdering his spouse to gain her inheritance. Go figure.) Along with the objectionable material, including Perry uttering Jesus' name twice out of frustration, the film mixes comedy with brutal in-your-face killings, including an undercover cop. And criminals go unpunished, a trend in movies of late. Perry's character is a good man who doesn't want to see anyone die. But he is nearly alone in this cast of ghoulish characters.
Info
Reviewer:
Phil Boatwright