Inspectors 2: A Shred of Evidence
Theatrical Release:
March 12, 2000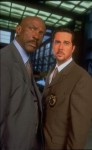 Synopsis
This sequel to Showtime's highest-rated original movie of 1998 continues the exploits of United States Postal Inspectors Frank Hughes (Louis Gossett, Jr.) and Alex Urbina (Jonathan Silverman). Showcasing a branch of government service that has been in operation for over 200 years, The Inspectors 2: A Shred of Evidence is based on factual events from the Inspection Service's actual files.
Months after Ed Furston throws away a pre-approved credit card application, the police discover that a recently deceased traffic accident victim has drained Furston's accounts and destroyed his credit rating – simply by using the information on the discarded credit card application.
The postal inspectors uncover evidence to prove that the deceased man has a murderous partner (Michael Madsen) and is on the trail of his next victim. With few leads to follow, Hughes and Urbina must close the case before he murders again. First airs on Showtime, 3/12/00 at 8:00 (ET/PT). 1:35
Dove Review
Involving and well acted, but like so many movies playing theatrically, this made-for-TV film is speckled with profanity and obscenity. The film carries a very important message: "Identity Theft is the fastest growing crime in the U.S. So, shred all mail that contains your name or any personal information." There, now that you've gotten the message, you don't have to subject yourself to the movie's crude behavior and speech, including hearing Jesus' name taken in vain.
Info
Company:
Showtime Networks, Inc.
Reviewer:
Phil Boatwright