Whatever It Takes
Theatrical Release:
March 24, 2000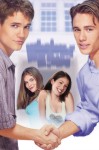 Synopsis
High school senior Ryan Woodman (Shane West) has a massive crush on Ashley Grant (Jodi Lyn O'Keefe), the most bodacious girl on campus. Ryan, however, is persona non grata among the popular set and hardly worthy of Ashley's attention. Enter Chris (James Franco) resident babe magnet, who's pining to no avail after Ryan's best friend Maggie (Marla Sokoloff), a girl with beauty, brains and a big heart.
Chris and Ryan go to outrageous lengths as they hatch a plan, which, if successful, will land them both with the right girl – or so they think.
Weaving a web of fake e-mails, plotted phone calls, contrived double dates and mistaken identities, Ryan helps Chris hide his dumb-jock personality under a façade of fake sensitivity, and soon Maggie is smitten. At the same time, Chris convinces Ashley that Ryan is the new cool kid in school and worth a second look. But messing with fate just ends up messing everything up, and in this tale of mismatched love, Ryan discovers that being yourself is always the best scheme, and that sometimes the love of your life is the girl next door – your best friend.
Dove Review
One scene has our hero out of sight while feeding romantic lines to the brute who wishes to woo the pretty girl standing on a stage balcony. That's as close to "Cyrano de Bergerac" as this teen sex romp gets. But then the intended audience would most likely ask, "Cyrano, who?" Although there are a few laughs, the material is pretty worn and the content most objectionable.
Content Description
Language: GD 1, Jesus 2, Oh god 5, S-word 5, Ass----5, ass 4, pissed off 3, bitch 2, expletives 6, crude reference to male organ 5 – Sex: 1 scene with male bare butts, 3 sexual situations, no nudity, sexual innuendo and suggestive sexual discussions – Drinking: teens drink beer at a party and champagne at a party, teen boys watch a porno movie, no sexual activity is seen on the video, boys sneaks into a girls' locker room and spies a teen girl taking a shower, the school nurse displays a giant plastic penis and suggests to the students to have safe sex, a girl vomits
Info
Company:
Columbia Tri-Star Pictures
Reviewer:
Phil Boatwright