Ready To Rumble
Theatrical Release:
April 7, 2000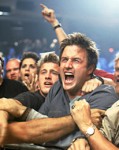 Synopsis
Best friends Gordie Boggs (David Arquette) and Sean Dawkins (Scott Caan) love professional wrestling more than anything, and their idol is wrestling
champion Jimmy King (Oliver Platt). They have an opportunity to see the King wrestle at WCW Monday Nitro but are devastated to witness the un-defeated
King not only lose but also get banned forever from World Championship Wrestling.
Jimmy King disappears from the spotlight and seemingly from the face of the Earth. Gordie and Sean strike out on a quest to find the King and bring him back to glory. They track him down, discovering along the way that everything they know about him is a lie,
created merely to promote his image. Gordie and Sean finally find him in his parents' motor home, drunk and hiding out. Somehow they see his potential through all the self-pity and worthlessness and talk him into getting revenge on those responsible for his fall
while winning back his title. Old relationships and careers are restored while new ones are built through belief, encouragement, hard work, and lots of laughs.
Dove Review
With the whole movie-taking place around professional wrestling, there is much blood and violence. Also found in the world of wrestling are many scantily clad girls, of which there is no shortage here in this movie. The language gets a little harsh, with numerous expletives, "Jesus" being yelled out once, and the bad guy saying the "F" word once. Fornication is implied twice, once with each lead character, and there is male rear nudity after one of those times. I would like to note that the two lead characters wear and refer to bracelets with "WWKD" on them for "What Would King Do?" This is a play on the bracelets worn by some Christians with "WWJD" on them for "What Would Jesus Do?" and might be offensive to some people for that reason. Also, Gordie and Sean hitch a ride with a van full of nuns who first have them singing "Kumbiyae my Lord" but end up singing Van Halen's "Running with the Devil" with them. The movie is full of laughs, contains a good message about believing in oneself and others and shows how hard work gets you farther than cutting corners. Unfortunately, the violence, language, and few offensive scenes should prove to make this movie inappropriate for most Christian audiences.
Info
Reviewer:
Phil Boatwright