Arabian Nights
Network Premier:
May 1, 2000
DVD Release:
July 18, 2000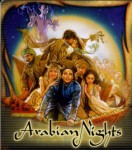 Synopsis
First airing on ABC, 4/30 and 5/1/00 (9:00-11:00 p.m., ET, both nights), "Arabian Nights" is an epic retelling of the timeless fantasy, wherein Scheherazade (Mili Avital) tells tales of wonder each night to her new husband, the sultan of Baghdad (Dougray Scott). The sultan, betrayed by his former queen, has pledged that he will trust no woman. Forced to marry again, he has vowed to have the new sultana, Scheherazade, murdered before dawn.
But the beautiful and clever Scheherazade has a plan. She seeks to stave off her execution – and win the sultan's love – by telling fables inspired by a master storyteller. The stories unfold at night, including the adventures of Ali Baba, a peasant who loots a treasure cave belonging to the vengeful master thief Black Coda; the story of Aladdin the Prince of Thieves and a pair of powerful genies; a king who trades places with a beggar; and the parable of an amazing quest for the world's greatest wonder.
Dove Review
Filmed in Turkey, "Arabian Nights" is a wonderful story, with exotic locations and impressive production values. Some parents may be leery of a film featuring magic and an evil-looking genie, but these are well-constructed parables, each containing a moral. The good vs. evil yarns contain lessons concerning the potency of love, the destructiveness of greed, facing responsibility, and finding happiness being more important than gaining power. Again, what's so wonderful about this presentation is the storytelling. It may well instill a desire in youngsters to read books rather than just be transfixed by video games.
Info
Company:
Hallmark Home Entertainment
Industry Rating:
Not Rated
Reviewer:
Phil Boatwright