Geppetto
Network Premier:
May 7, 2000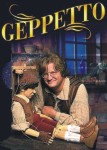 Synopsis
Drew Carey stars as Geppetto, a lonely village toymaker who wishes his life-size puppet was a real boy, in Disney's first original musical for television. "Geppetto" first airs on ABC's "The Wonderful World of Disney," Sunday, 5/7/00 (7:00-9:00 p.m. ET/PT).
Set in the 1850s in the storybook Italian town of Villagio, the adventurous teleplay retells the tale of Pinocchio, this time from the perspective of Geppetto. The classic fairy tale becomes a story about a father-and-son relationship. Here, our lead wants a son until he gets one. The shenanigans of a spirited boy become more than Geppetto had anticipated. By film's end, however, Geppetto learns to love Pinocchio for who he is, splinters and all.
Dove Review
I think this production will be enjoyed mostly by little ones. For me, several of the songs and their encores were, well, annoying. That's usually a good sign that kids will enjoy something – so long as it's irksome to adults. There are a couple of exceptions – "Since I Gave My Heart Away" is both lyrical and heartfelt. Of course, the real toe-tapper, the one that will stay with you, is "I've Got No Strings." This memorable piece is from the original Disney animated theatrical "Pinocchio."
"Geppetto" reminds adults to be thankful for what we have and teaches children that it doesn't matter what you're made of on the outside, it's what's on the inside that counts. ABC has featured several outstanding original productions this year, including "The Miracle Maker," "The Three Stooges," and "Arabian Nights." Although "Geppetto" is not as satisfying for grownups as those films, it does have heart, and that network should be congratulated for attempting to make features that will inspire younger members of the family.
Info
Industry Rating:
Not Rated
Reviewer:
Phil Boatwright