Arthurs Birthday
Theatrical Release:
April 17, 2000
DVD Release:
April 17, 2000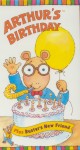 Synopsis
Join Arthur, D.W., and all their pals in a fun-filled animated series based on Marc Brown's best-selling children's books. Each video includes two great adventures plus a cool intermission featuring real-life Arthur fans.
Arthur's Birthday – Oh no! Arthur and Muffy have planned their birthday parties for the same day! Muffy refuses to change the date of her party, so Arthur must find a solutions that will make everyone happy.
Buster's New Friend – All of a sudden, Buster doesn't have time for Arthur. All he wants to do is talk about his new super-cool, mini-golfing, pro-bowling friend-Mike. Arthur is almost ready to give up on Buster, until he learns the truth.