Up at the Villa
Theatrical Release:
May 5, 2000
DVD Release:
October 24, 2000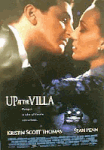 Synopsis
Although the presence of black-shirted fascists and menacing street thugs presages the coming of WWII, the remains of Tuscany's Anglo-American expatriate community are in blithe denial of the impending threat, preferring to lead a leisurely existence of fancy-dress balls and languorous sunny afternoons in sumptuous renaissance villas.
Mary Panton (Kristin Scott Thomas), an English beauty recently widowed and left penniless, is staying at one such villa thanks to the generosity of acquaintances. Sir Edgar Swift (James Fox), a friend 25 years older than Mary, proposes marriage, but Mary isn't in love with him. She is, however, tempted by the advantages of his proposal – not only is he a cherished friend, he is about to be appointed governor of Bengal and, as such, can offer her a life of luxury. She asks for a few days to consider his offer.
Meanwhile, at a dinner party held by her friend Princess San Ferdinando (Anne Bancroft), Mary meets Rowley Flint (Sean Penn), a rakish, charming American who, despite his married status, has a well-earned reputation as a playboy. In the few days before Edgar returns for her decision, Mary becomes entangled in an impulsive sexual encounter that leads to violence and tragedy.
Dove Review
Thoughtful and well conceived, this is an intelligent film that relies on witty dialogue and rich, detailed performances rather than bombs and car chases to hold the viewer's attention. Even though there is an implied sexual liaison, lessons are learned from the impulsive act that serve to alert others that sex outside marriage may have serious consequences. It is a well-told story wherein the lead betters herself and finds wisdom by film's end. And although the male lead is a bit of a rogue, he does put his life on the line to help others. Due to the implied sexual relations and the amoral attitude of its male lead, we are recommending this for viewers age 12 and above.
Info
Reviewer:
Phil Boatwright