I Dreamed of Africa
Theatrical Release:
May 5, 2000
DVD Release:
August 29, 2000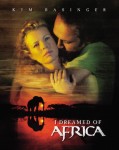 Synopsis
Kuki Gallmann (Kim Basinger) craves the excitement and freedom that is missing from her contained life in Italy. After surviving a near fatal car accident, she confides to her young son, "I want to do something good with our lives…make a new start." With that, she marries the other survivor and they are off to the wilds of Africa. At first the Dark Continent seems like the Garden of Eden, but soon Kuki (pronounced Cookie) discovers that life in rural Africa is not a fairy tale existence. Kuki finds herself amidst dangerous beasts, devastating storms that destroy all in their path, desperate poachers ruthlessly murdering endangered animals, and the death of loved ones.
Dove Review
Wanting something affirmative to say about this content-friendly film, I keep coming back to the title. It's a good title. Unfortunately, "I Dreamed of Africa" is a watered down, uninspiring rip-off of "Out of Africa." Ms. Basinger is the main letdown. Although she is uninhibited about allowing the audience to see her face scrunch up like an overripe peach whenever she cries (and believe me, she does get the chance to emote tragic sadness – again and again) her character lacks much personality or charm. She's rich and she's bull-headed, that's about it.
Like Meryl Streep's Karen Blixen in "Out of Africa," Kuki narrates her story. Kuki's off-screen monologues, however, seemed pretentious when I think the writer was attempting to be poetic. "In the night I can see eyes looking back at me…I'm afraid." Ms. Basinger, a fine actress, seems constrained by the script's sometimes corny dialogue. Looking out from her African estate at the spacious country, she utters to her husband, "We've arrived." I could see the audience cringe in unison at that one.
As for the film's structure, it is without sensation. Based on a true story, how is it that the script is so predictable? What should be amazing in a biography is the out-of-the-ordinary subject matter. Alas, I sat there correctly guessing nearly every scene and unmemorable utterance.
The picture also lacks spirituality. In a land where you are surrounded by all kinds of life, you simply cannot ignore the Creator or religious matters. But these produces did. For example, at the funerals there are several women dressed in low cut dresses with nary a cross hanging from their necks. Now, some of these women are supposed to be Italians. Italian woman – at a funeral – without a cross necklace among them? I don't think so.
I can approve "I Dreamed of Africa" due to the lack of profane language or exploitive material, but once past the many shots of beautiful vistas, I found it uninspiring and deathly dull. It was also disappointing that so much attention is given to the creation, yet even at the funerals, both God and Christ are ignored. One caution: there is one brief scene featuring the married couple preparing to have sex. We see her naked back, and his rear end is prominent for a second as he gets into bed. They are, however, married and the scene cuts before becoming graphic.
Info
Company:
Columbia Tri-Star Pictures
Reviewer:
Phil Boatwright