Center Stage
Theatrical Release:
May 12, 2000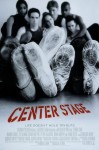 Synopsis
The movie begins at auditions for The American
Ballet School in New York City. This is a very
prestigious school where every student hopes to become
part of the elite American Ballet Company. The story
follows a group of students through their year at the
school as the learn a lot about dancing, hard work,
relationships, and themselves. Some have their dreams
come true while others realize the dreams they had
weren't what they wanted at all.
Dove Review
The acting isn't the best, but the story is great, and the dancing is fantastic. It was fun to watch and very inspirational. Unfortunately, a few bad words were put in, mostly by the character who plays the rebel. She also smokes constantly. One of the lead characters is gay (quite common in the world of ballet), but the movie doesn't show any acts of homosexuality. There is some underage drinking and drunkenness when the students go out for a night on the town, but they are punished for it the next day. Fornication is implied once when a couple is kissing and then shown in bed with the covers over them the next morning. The movie itself is fabulous – there are just those few bad things thrown in, probably just to get the rating that Hollywood thinks will attract bigger crowds.
Content Description
Language: GD 1, Jesus 4, oh my God 6, F-1, Sh-7, Bitch-4, Ass-5 Hell-3 – Fornication: implied once (couple kissing then shown in bed next morning – Smoking: Adult (3 lead characters smoke - all are students around 18-19 - Drinking: college students go out drinking once – Drunkenness: Same college students get drunk
Info
Company:
Columbia Tri-Star Pictures
Reviewer:
Phil Boatwright