Dangermouse: The Day of Suds
Theatrical Release:
June 22, 1984
DVD Release:
June 22, 1984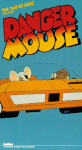 Synopsis
Die Laughing – A ticklish problem: the sinister Baron Greenback's green laughing gas is sending the world into stitches. Governments are crumbling. There's panic abroad. Will Dangermouse have the last laugh?
The Day of Suds – London is under threat of invasion by an army of manic washing machines (another of the evil Baron's dirty deeds). The mopping-up operation falls to our trusty heroes.
150 Million Years Lost – Time goes haywire when the professor's time machine blows a fuse. Dangermouse and Penfold find themselves confronting pre-historic pterodactyls, a 12th century knight… and a dinosaur in Trafalgar Square.
Togue Robots – Mechanical mayhem: it looks as though Dangermouse has met his match in Big Tom, the Mouse Masher.