On The Beach
Network Premier:
May 28, 2000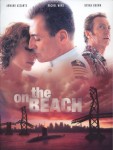 Synopsis
Premiering on Showtime, 5/28/00 at 9:35 PM, ET, this updated, two-part version of the classic Cold War drama stars Armand Assante as Dwight Towers, the commander of a submarine in 2006, when a nuclear war between the U.S. and China has wiped out most of the world's population. Only pockets of humanity remain, mostly in Australia, so that's where Dwight and his crew head, but little does he know that fate has one last mission in store for him and his vessel.
Dove Review
Meant as an unnerving vision of mankind's demise, this version only underscores how well the 1959 version was told without the misuse of God's name (done here 19 times). Assante, Brown and Ward are fine actors, but the original contained exquisite performances from Ava Gardner, Gregory Peck, and, in a rare dramatic role, the gifted Fred Astaire. My problem with the plot of both films has always been the depiction of the ultimate doom of mankind. Certainly, the nuclear age is a threat to our existence, but the Revelation has a far different outcome for the last days.
Content Description
Language: GD 11, Jesus 6, Christ 2, oh my God 6, F-word 17, S-word 12, SOB 2, ass 15, bastard 1, expletives 11, a few sexual crudities – Sex: bare back of woman getting out of bed; 3 sexual scenes, one graphic but brief, another between man and wife, while fornication is implied by the two leads – Smoking: once – Drinking: much – Drunkenness: once – Violence: a decaying body is found; a sailor gets sick and dies from radiation poisoning; people killed in gun fight; sick people vomit.
Info
Company:
Showtime Networks, Inc.
Reviewer:
Phil Boatwright