But Im a Cheerleader
Theatrical Release:
July 7, 2000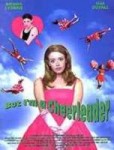 Synopsis
In this satirical comedy, Megan (Natasha Lyonne) is a young high schooler who has it all. She's popular, a model student, dates the captain of the football team and is a cheerleader. When her horrified religious parents and friends suspect she is a lesbian, they stage an intervention. Enter Mike (played by an out-of-drag RuPaul), a treatment director who is called in to take Megan to a homosexual "rehab" camp for conversion therapy. True Directions, populated by a colorful assortment of gay teens, is run under the strict, all-seeing eyes of Mary (Cathy Moriarty), who is determined to set the youngsters straight (excuse the pun).
At first, Megan resists rehabilitation. In fact, she doesn't believe she is a lesbian. Then she meets Graham (Clea DuVall), and the two girls become emotionally and physically involved, attempting to hide their affair from the camp's matron.
Dove Review
A certain portion of the entertainment community is bent on being bent. Hollywood has taken upon itself the mission of changing society's attitude toward homosexuality and lesbianism ("In and Out," "Bound," "First Wives Club," "The Celluloid Closet," "Boys On The Side," "Beautiful Thing," "Chasing Amy," "Love! Valor! Compassion!" just to name a few). Film after film encourages us to believe that it is an alternative and accepted lifestyle. There's just one little problem with this belief – God says it is immoral (Romans 1:26,27). As Christians we do not want to seem hostile to people struggling with this behavior. While God says homosexuality is an abomination (1 Corinthians 6:9), upon reexamination of that verse, it becomes apparent that inappropriate sexuality is not all that's abhorrent to the Heavenly Father. In fact, we are all blameworthy of some infraction. So, we'd better be careful about admonishing others for the speck in their eyes. However, those developing a spiritual awareness soon find themselves ashamed of the natural man's disobedience to God. We don't parade our peccadilloes. We are not proud of our transgressions, nor do we try to convince society to accept them. With God's help we will conquer these faults. With His mercy, we will be forgiven them.
I believe many in Hollywood have embraced the rights of homosexuals, not so much out of a righteous desire for equality, but as an effort to further separate nations from the teachings of God's Word. As for the film itself, satire is difficult to pull off. Here, the filmmaker gets a case of the cutes, leaving his actors looking like cartoon characters. Nothing is seriously addressed other than the underlying hostility toward Christianity. Perhaps the producers would have given viewers a more powerful film had they seriously examined the subject of sexual orientation and whether it could be changed. I found it nothing more than a bawdy comedy, aiming to satisfy prurient desires.
Content Description
Sex:
Several scenes show two girls fondling and kissing; much sexual innuendo; masturbation; students are encouraged to simulate the sexual act with the opposite sex; girls and boys flirting with their same sex.
Info
Reviewer:
Phil Boatwright