What Lies Beneath
Theatrical Release:
July 21, 2000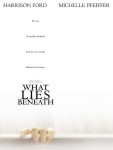 Synopsis
Harrison Ford and Michelle Pfeiffer star in this supernatural thriller about a happily married couple whose idyllic life is threatened by mysterious events. It has been a year since Dr. Norman Spencer (Ford) betrayed his wife Claire (Pfeiffer). With Claire oblivious to the truth and the affair over, Norman's life and marriage seem perfect. But Claire begins hearing mysterious voices and seeing a young woman's wraithlike image in their home. This apparition will not be dismissed. It has come for Dr. Spencer…and his beautiful wife. Trying to uncover why a ghost is haunting her home, Claire reads up on ghosts and even dabbles with an ouija board.
Dove Review
This intense, often nerve-racking ghost story freely borrows from many other films, including "Rear Window," "The Sixth Sense," and "Dial M for Murder." It also jolts with far too many red herrings – you know, where the cat jumps out at the protagonist or the friend, rather than the villain, sneaks up behind the heroine. That said, however, "What Lies Beneath" is one of the scariest movies I can remember seeing. Although director Zemeckis blatantly steals from other thrillers, he does it with such a flourish that you find yourself squeezing the arm rests and jumping with every burst of high pitched underscoring. Should we attend horror movies? I would suggest you read Philippians 4:8 and Psalms 101 before choosing any film, especially one containing scenes featuring ouija boards, paranormal activity and films where the lead misuses Christ's name on a regular basis.
Content Description
Language: Jesus 4, Christ 1, oh my god 4F-word 1, S-word 2, pissed 1, SOB 1, expletives 4 – Sex: it is implied that the husband had an affair, but we do not see it; two sexual situations happen between man and wife, one when the woman has become possessed by the spirit of a dead woman her husband had an affair with; no nudity – Drinking: several times throughout the film the couple drink wine, but no drunkenness – Violence: a physical fight seen where a man is trying to kill a woman; some blood as a character gets hit in the head – Occult: a woman dabbles in witchcraft by buying a book on witchcraft and ghosts; she uses a ouija board.
Info
Reviewer:
Phil Boatwright