Bud Greenspans Favorite Stories of Olympic Glory
Network Premier:
August 20, 2000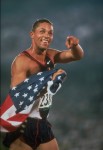 Synopsis
Since 1952 Bud Greenspan has written, produced and directed more than 150 films on Olympic athletes and their dramatic achievements. Showtime airs "Bud Greenspan's Stories of Olympic Glory," Sunday, 8/20/00 at 10:00 PM (ET). This 90-minute documentary highlights five stories that are very personal to Greenspan. Each segment is unique, attempting to bring new insights into the notable career of each athlete.
Nadia Comaneci of Romania amazed the gymnastics world when she scored the first "Perfect 10s" ever at the 1976 Montreal Games. She has won 10 Olympic medals, five of them gold.
Duncan Armstrong of Australia was ranked 46th in the world in the men's 200 meters freestyle swimming event. Despite this low ranking, Armstrong beat three world record holders in the 1988 Seoul Olympics. His victory over favored American Mat Biondi, setting a new world record, became one of the greatest upsets in Olympic swimming history.
Wrestling heavyweight Alexander Karelin of Russia has been undefeated for nearly 13 years, proving that anything done with such excellence is worth attention. The winner of three straight gold medals, Karelin has had the honor of carrying the flag for his nation at the last three Opening Day ceremonies.
Considered by many the purist long distance runner in history, the story of Abebe Bikila is legendary. A member of Emperor Haile Selassie's Palace Guard, Bikila amazed the sports world by winning the 1960 Rome marathon by running the entire distance, 26 miles, without shoes. His Olympic victory was the first ever for an athlete from an East African nation.
The final segment spotlights Dan O'Brien from the USA. At the 1996 Atlanta Olympics, O'Brien dominated in the first day of the decathlon, but he found himself locked in a struggle with a an unlikely challenger, 21-year-old Frank Busemann of Germany, who was turning in the best performance of his life.
Dove Review
Greenspan says these five stories represent to him the age-old premise, "Never look to the ground for your next step, for greatness belongs to those who look to the horizon." Even if you do not follow the Olympics, or sports in general, I believe viewers will be entertained and inspired by this special program. This presentation provides a glimpse into the character of these athletes, their willingness to work hard for their dreams and finally to accomplish all that is right in the Olympian's pursuit of excellence.
Info
Company:
Showtime Networks, Inc.
Reviewer:
Phil Boatwright