Eyes of Tammy Faye
Theatrical Release:
August 4, 2000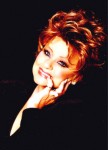 Synopsis
This is a campy, unconventional biography on Tammy Faye Bakker Messner, narrated by cross dresser RuPaul Charles. Tammy Faye, who is renown for her generous application of eye makeup and her on-air emotional pleas, helped her former husband begin several Christian TV networks. With a children's puppet show, they helped Pat Robertson begin Christian Broadcasting Network, then they started up Trinity Broadcasting along with that other famous applicator of mascara, Jan Crouch, and her husband, Paul. Finally, Jim and Tammy launched PTL, one of the big four Christian TV Networks to broadcast 24 hours a day. (The ACTS Network was the fourth network.)
After founding Heritage USA, a Christian-themed amusement park and hotel, the Bakkers' world began to crumble. The film examines Jim's affair with Jessica Hahn, Tammy's addiction to painkillers, her stay in the Betty Ford clinic, and the demise of PTL.
Dove Review
In the early 1980s, before the great fall, I was a guest on Jim Bakker's talk show. I was there promoting Christian TV News, a TV guide I edited, spotlighting the four major Christian TV networks. After the program, Jim was whisked away by yes men and developers bent on doing a West Coast version of Heritage, USA. But I was able to spend some time with Tammy Faye. I found her to be very down-to-earth and extremely gracious. Despite the carnival atmosphere that seems to surround Tammy Faye, I always appreciated her one-on-one sincerity. But during this 79-minute documentary (which seemed longer) never does she or Jim acknowledge any wrongdoing on their part. And although there is much talk about forgiveness, there are a lot of aspersions cast toward Jerry Falwell. Overall, it is a sad commentary about tele-evangelism and its fund-raising practices. And you always feel that Tammy Faye is in charge. You are seeing the Tammy Faye she wants seen. By film's end you are still not sure if this woman is contrite. When a person tears up once or twice, you feel for them. When it happens constantly in a planned-out documentary, you begin to wonder if it isn't merely showmanship, or worse, a lack of stability. At one point she informs us that possessions aren't important. Later, she is seen being driven off in a sparkling white Jaguar. Years ago I saw a film about a priest who got caught up in worldly affairs. When he repented, he left his prestigious parish to run a small mission in the desert. He served God the rest of his life in anonymity. But Tammy Faye doesn't want to go gently into that good night. She wants to be back on television. We even see her pitch three loony ideas to an executive at Lifetime. I believe she is a good person, dedicated to the Lord. However, I'd feel stronger in that belief if she would go back to the small church she attends and quietly, and with dignity, continue to lead the choir from behind the organ once bestowed by Frank Sinatra. Hey, you knew it wouldn't be just a regular old organ, didn't you? Due to brief shots of a bare-breasted Jessica Hahn from a Playboy magazine photo shoot, we are unable to recommend this film for family viewing.
Content Description
S-word 1 – Sex: partial nudity as we see a woman posing for Playboy magazine.
Info
Starring:
Narrated by RuPaul Charles
Reviewer:
Phil Boatwright