Space Cowboys
Theatrical Release:
August 4, 2000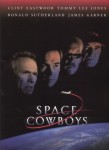 Synopsis
Four top fighter pilots, now retired, are brought back into service to assist NASA during a major satellite crisis. Although their cocky, nonconformist attitudes kept the quartet out of the space program in the 1960s, their specialized knowledge about the workings of a damaged Russian satellite unexpectedly enables them, late in their lives, to get another chance to go into space. That is, if they can pass the same physical and skill tests as the younger astronauts.
Dove Review
To me it's not their combined ages that's the big deal, but their combined talent. They are pros and fun to watch as they good-naturedly spoof old age and themselves. Alas, I cannot recommend the film for family viewing due to misuse of God's name on seven different occasions. Also troubling, amusing really, is the completely uninformed portrayal of a Baptist minister by James Garner. In his retirement from the military, Garner's character has become a reverend. We see him attempt to give a sermon, but he seems as out of place behind a church pulpit as Woody Allen. I suppose it is to reveal that once he left the service, he was lost, but the scene really doesn't work. Even more stupefying is his prayer later in the film. During a tense moment we hear him pray, "Hail Mary, Mother of God." From a Baptist minister? Writers Kaufman and Klausner should have done a bit of research.
Content Description
Language: GD 7, D-word 1, S-word 10, SOB 4, Bastard 2, Ass 12, Screwed 3, expletives 35 – Sex: one character is a letch, but fairly tame comments; he looks at a girly magazine, but it is in the '50s and the girl is completely clothed; during an examine, we see each of the leads from behind, sans clothing – Sexy dialogue: mild comments referring to an overactive libido – Drinking: one character has a beer, while another seen takes place in a bar, but no drunkenness – Violence: two brief fist fights between friends; some intense moments, once in planes and later in space; a man upchucks in an open cockpit, sending the vomit over both flyers and the plane – it's gross, but the audience roared.
Info
Reviewer:
Phil Boatwright