The Sandy Bottom Orchestra
Network Premier:
August 27, 2000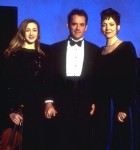 Synopsis
Based on a novel by Garrison Keillor and Jenny Lind Nilsson, "The Sandy Bottom Orchestra" premieres 8/27/00 at 8PM (ET/PT) on Showtime. This family film concerns Ingrid Green (Glenne Headly), who gave up a promising career as a classical pianist to become a wife and settle down in Sandy Bottom, Wisconsin. Frustrated by "small town" thinking, Ingrid never feels a part of the community.
Determined to fight the erosion of culture in their sleepy little community, Ingrid butts heads with the mayor who plans to demolish a magnificent historical building to make way for a pizza parlor. Ingrid's other challenge is her attempt to introduce new and diverse pieces of music to her church choir members. But things come to a head when her husband takes over as conductor of the Dairy Days Concert.
While Ingrid is out fighting the good fight, her husband is fast becoming the impresario of Northern Wisconsin and producing what he hopes will be the high-water mark of Sandy Bottom's dubious musical history. Will her husband be able to handle the job? Will Ingrid come to peace with her community? And will their daughter be accepted at the Interlochen Music School in Michigan? These simple plotlines, which seem straight out of Lake Wobegon, make for good storytelling.
Dove Review
Told from the perspective of the Greens' 14-year-old daughter Rachel (Madeline Zima from "The Nanny"), this is a delightful piece of Americana. It deals with self-discovery and finding contentment. What pleased me was the fact that Mid-America was not ridiculed and the local minister was a three-dimensional character and a good man. How often do those portraits come to the TV screen?
Nicely photographed, with disarming performances by all, I felt happy viewing a film replete with positive role models and good family relationships. I keep thinking that's the purpose of movies – to uplift as well as educate and entertain.
Info
Company:
Showtime Networks, Inc.
Reviewer:
Phil Boatwright