Bash: Latterday Plays
Network Premier:
August 28, 2000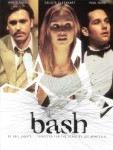 Synopsis
"Bash" premieres on Showtime, Monday, 8/28/00 at 8:00 PM (ET/PT). This taped-live-for-television performance "explores the complex nature of religion and the human psyche" by introducing characters who are seemingly likable, then abruptly disclosing their capacity to commit the most grievous acts of murder and brutality.
Act 1, entitled "A Gaggle of Saints," is a double monologue about two spirited and presumably amiable college sweethearts (Paul Rudd and Calista Flockhart) who attend a "bash" in New York. While his girlfriend is off with friends, this "All American" boy-next-door gleefully describes in detail how he commits a gruesome hate crime. Although dedicated to his Mormon beliefs, he and his friends come across a gay man. Disgusted by his behavior, they wait until he is alone, and then attack him.
"Medea Redux" is the title of the second one-act play. Sitting center stage in the confines of a police interrogation room, a young woman (Calista Flockhart) speaks softly into a tape recorder and recounts her memories of having been seduced by her schoolteacher at age 13. When he discovers she is pregnant, he abandons both the young girl and his baby and leaves her consumed by rage and obsessed with revenge.
The last monologue, "Iphigenia In Orem," takes place in a hotel room, with a traveling salesman (Ron Eldard) relating his fear of becoming a casualty of corporate downsizing. What he does, in the hope of capturing the sympathy and mercy of his bosses before they let him go, is an act of sheer depravity.
Dove Review
This production gives the illusion of ruminative theater, all the while taking away spiritual peace. While getting caught up in the writing's emotional reticence and affecting performances (especially Flockhart's in the second act) viewers are unaware that they will soon hear gruesome stories where religious college students kick a man to death, where a girl kills her teenaged son in the name of revenge, and a salesman, worried that he is about to lose his job, allows his infant to suffocate, thinking he'll find sympathy from his employers. Whatever the "complex nature of religion and the human psyche," I found no insight, just a not-so-subtle bashing of religion.
The one connecting string between these storylines is that the characters are members of the Church of Latter-day Saints. This connection between a background in church and their unbalanced view of life never made sense. Are the artists saying that when push comes to shove, religious people behave worse than anyone else? Whenever religion is slandered, I think back to what it must have been like for our Jewish brothers and sisters in early 1930s Germany. They were blamed for the faults of society and their faith was looked at with disgust. Is this same prejudice the fate of Christians in America?
Info
Company:
Showtime Networks, Inc.
Reviewer:
Phil Boatwright