Ancient Rome: The Story of an Empire that Ruled the World
Theatrical Release:
August 17, 2000
DVD Release:
April 19, 1999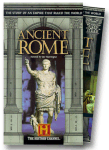 Synopsis
On ground already rich with history, at a time when the "civilized world" surrrounded the Mediterranean, a city grew into a republic, and the republic became an empire that shaped Western Civilization. Militarily, politically and culturally, Rome conquered the world and created a legacy that endures to this day. From Romulus and Remus to the rise of Christianity, "Ancient Rome: The Story of An Empire That Ruled The World" introduces the people and chronicles the events that shaped one of history's most fascinating civilizations. Leading scholars probe the lives and legends of figures like Ceasar, Cleopatra and Pompey. Ancient accounts reveal what life was like in their world, and extensive footage reveals the treasures and secrets of Roman sites throughout Europe and the Near East.
4 videos in the set, each approx. 50 minutes in length.