Into the Arms of Strangers
Theatrical Release:
September 15, 2000
DVD Release:
August 28, 2001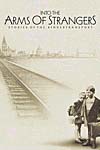 Synopsis
For nine months prior to the outbreak of World War II, in an act of mercy without equal, Britain opened its doors to over 10,000 endangered children whose lives had been thrown into chaos following the rise of Adolph Hitler. The film addresses the extraordinary rescue effort and its dramatic impact on the lives of the children who were saved. Through unearthed footage and vividly remembered experiences, the film brings to light the untold stories of the children who were forced to grow up overnight; the parents whose sacrifice in sending their children to safety took all of their courage and love; and the rescuers who gave of themselves during one of history's darkest hours.
Dove Review
Erudite, perceptive, horrifying, and ultimately uplifting, this moving documentary features several survivors who detail their experiences and realize that their lives have had meaning. A difficult movie to view, but a most important one. For while it reminds us of the black-hearted deeds some people committed during WWII, it also pays tribute to the merciful. And rest assured, you will come away from the theater reevaluating your own troubles. We must be continually reminded of the past evils humans have perpetrated on their fellow man so that we do not become unresponsive to the sorrows that continue throughout the world even today.
Info
Starring:
Narrated by Judi Dench
Reviewer:
Phil Boatwright