Hendrix
Network Premier:
September 17, 2000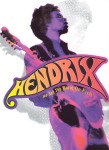 Synopsis
"Hendrix," the life of rock musician Jimi Hendrix, premiers 9/17/00 on Showtime at 8:00PM (ET/PT). The film begins in 1970 in the London apartment of Jimi Hendrix (Wood Harris), with the guitarist reflecting on his life, from being raised by his father Al (Dorian Harewood) in Seattle to his musical heyday between 1967 and 1970, when he was at the vanguard of a cultural revolution in America.
Dove Review
"Sex, drugs and rock and roll" was the anthem of those rebelling against society's conventions during the late '60s. While attempting to reform our country's social mores, the hippies and yippies were embracing anything that rebelled against the status quo. They were in rebellion, not just of civic injustice, but also of common morality. Consequently, whatever good they accomplished is offset by the dismissal of social standards. The one lesson we can learn from the production is that over-indulgence and rebellion do not bring satisfaction to the soul. At one point, the lead states, "Famous and happy are two different things…There's something missing." Although it contains an engrossing performance by Mr. Harris, the sexual content, which includes lesbianism and orgies, and the abusive language make for unsuitable family programming.
Content Description
Language: Christ 6, F-word 30, S-word 11, BS 1, ass 3, bastard 1, bitch 1, expletives 3, crudities 1 – Sex: three orgies with lesbianism and nudity; a woman follows the lead into a public restroom, gives him drugs and they begin to have sex when the scene ends; two women discuss making a mold of Jimi's penis; Jimi is seen in bed, smoking a joint with a scantily clad woman he has presumably just had sex with – Drugs: the lead smokes throughout, drinks excessively and consumes any number of illegal narcotics; two musicians set guitars on fire while performing on stage – the lead embraces all religions; militant Black Panthers put down whites
Info
Company:
Showtime Networks, Inc.
Reviewer:
Phil Boatwright