Sweet Revenge
Theatrical Release:
September 24, 2000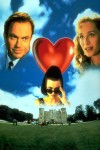 Synopsis
"Sweet Revenge," a dark-humored farce, premieres on Showtime, 9/24/00, at 8PM (ET/PT). This black comedy stars Helena Bonham Carter as Karen Knightly, a high-strung, aristocratic British woman who's heartbroken over the failure of her affair with a married man. About to commit suicide by jumping into the Thames, Karen meets Henry Bell (Sam Neill), a fellow victim of life's vagaries who's about to off himself. Instead, Henry makes a pact with Karen that they'll each get rid of a problematic person from the other's life. The trouble is, after Henry agrees to the plan, he meets Imogen – the wife of Karen's philandering lover and the woman he's to dispose – and finds that he's fallen in love with her. Then there's the fact that Karen is, upon closer inspection, rather insane.
Dove Review
With a dark and sometimes unnerving mixture of elements from "Strangers on a Train" and "Throw Mama from the Train," this made-for-Showtime movie is occasionally satisfying. I said, occasionally. Unfortunately, most of the comic moments center around sexuality. And the premise of someone destroying another person's life is a bit unsettling in a world where such deeds are committed more and more often. At one point the female lead drives a wedge between a man and his wife, leading her to divorce him; then she causes havoc at his work, and finally she prevents him from reaching his ventilator before his asthma attack can finish him off. I found little humor in her evil and unpunished crimes, which brought harm to innocent people. "Edgy" is the key word to this script, rather than suspenseful or humorous. Although the leads give fine performances, the adulterous affairs, the kinky sexual situations, the sexual innuendo, the course language and the overall negative feel of the production left me dispirited and anxious to view something a little more uplifting.
Info
Company:
Showtime Networks, Inc.
Reviewer:
Phil Boatwright