Peter Pan (Musical)
Theatrical Release:
October 8, 2000
DVD Release:
October 3, 2000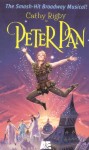 Synopsis
Cathy Rigby stars in this musical version of J. M. Barrie's "Peter Pan," the boy who wouldn't grow up. Peter, Tinkerbell, Wendy Darling, and her brothers fly to the enchanted island of Neverland to rescue the Lost Boys from the evil Captain Hook. Premieres on AandE, Sunday, 10/8/00 at 8:00 PM (ET/PT).
Dove Review
What a pleasant surprise. This taped stage play and its star are completely captivating. Rigby's voice is superb and she jumps, tumbles and flings about with grace and energy. Especially mesmerizing is the song "I'm Flying." Soon, not only is Peter soaring overhead, but so are Wendy, the boys and anyone else magic fairy dust is sprinkled upon. The wires are completely undetectable, even with a close-following camera – it's downright magical.
Paul Schofffler is equally entertaining as the sinister Captain Hook. The kids in the live audience loved booing him, which prompted him to say directly to the camera, "Children should be seen and not heard."
The songs (Carolyn Leigh, Moose Charlap, Betty Comden and Adolph Green), dances, spirited performances, and especially the flying sequences, including the finale where Peter is thrust over the heads of an amazed theater audience, add up to an exhilarating night of theater – right in your own living room. Bravo AandE!
Info
Company:
A and E Entertainment
Reviewer:
Phil Boatwright