Video Buddy: Paddingtons Big Beach Adventure and Paddington Goes Fishing
Theatrical Release:
October 4, 2000
DVD Release:
September 29, 2000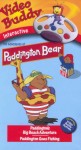 Synopsis
Paddington is a small individual trying to find his way in a big place. Together, your child and Paddington learn to "muddle through" as they make sense of their often comical and confusing world. Animated classics that children love. Interactive version of this title is available for use with Video Buddy.
Paddington's Big Beach Adventure – A bear on the beach can quickly become a big attraction. Paddington goes from building sandcastles to getting caught in a fisherman's net, all in one day.
Paddington Goes Fishing – Paddington is a busy shipmate when he goes on a day of sailing and fishing on the ocean with his best friend, Mr. Gruber.