Saltys Lighthouse: High Spirits and Blackout
Theatrical Release:
October 4, 2000
DVD Release:
September 29, 2000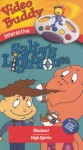 Synopsis
Imagination ahoy! Enter the fantasy world of 5-year-old Salty through these vividly animated stories. A host of delightful characters join Salty on lively nautical adventures that help children explore language and topics relevant to their pre-school years. This title is available in an interactive version to use with Video Buddy.
Blackout – When fog rolls into the harbor, some of the gang are afraid of the dark, but they face their fears and in the end, learn how to turn a scary situation into a great time.
High Spirits – The friends at Salty's Lighthouse and the tugboats in the harbor have fun learning that when they work as a team, they find the courage to overcome challenges.